Previous Story
Next Story
Friday 27 May 2022
5 minutes with race car driver Thomas Maxwell
POLITIX X THOMAS MAXWELL
Thomas Maxwell describes his profession – a professional racer – as "one of the best jobs in the world". We find out how he got started in the world of motorsport, and what he occasionally wears when he's not in racing overalls.

"I love how Politix tailors to different body shapes – I have a slim build, and I always find plenty of options in their collection."

- Thomas Maxwell, Race Car Driver
Q&A WITH THOMAS MAXWELL
Q: How did you discover your passion for motorsport?
From a really young age, actually! Early in life, I was running around my parents' automotive workshop, which eventually led me to discover motorsport. My first foray into racing was go-karting – Mum and Dad worked exceptionally hard to scrape the money together for my first kart. I'm incredibly blessed with the family I have and those sacrifices they've made for me.
Q: How did you break into the racing scene?
From kart racing, I progressed quickly through to Open Wheel Racing, which led me to Formula Ford in Australia, the F3 and Formula Renault in Europe. My time in Europe was awesome; flying the Australian flag and sharing the same roads as my heroes was lifechanging, and it made me even more passionate for the sport. That was a feeling I'll never forget.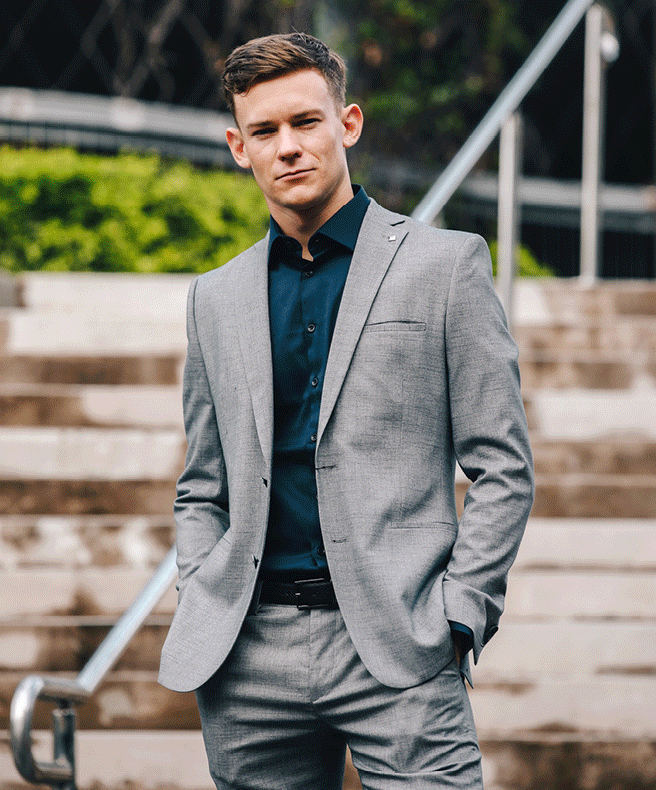 Q: How do you train for a sport like racing?
Race car driving involves a unique fitness regime, since it focuses heavily on your reaction time, as well as your cardio fitness and core strength. I'm fortunate enough to have a high-quality racing simulator, which I train with 5-6 days a week. This lets me experience unfamiliar tracks without racking up tens of thousands of dollars in car damages!
Q: What's a fun fact about racing?
It can actually get incredibly hot inside the racing cockpit – it's usually 25 degrees hotter than the temperature outside, which means we're used to 55 to 60-degree temperatures inside the car.
Q: What do you like to wear outside of racing attire?
I'm usually in warmer climates when attending racing events, so you'll often find me rocking a Politix collared shirt and chinos.
Q: What's on the horizon for you?
My next race is the Townsville Street Circuit in July 2022. It's a track I'm familiar with, and I'm excited to tackle it again after training for the past few years. I've got a great car and a great team around me, and I'm pushing hard for a championship title this year.
Thomas' Picks